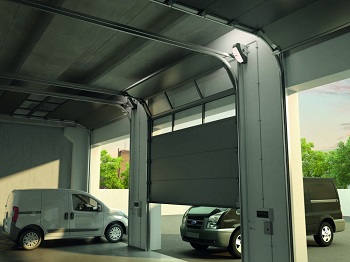 Modular industrial doors
We offer doors which can be used in all kinds of locations and conditions. Every facility can have safe commercial doors to ensure comfort of use and a smart appearance.
Our solutions are recommended for areas where:
Door dimensions need to be adjusted to the site conditions,
It is necessary to fit the door in particularly tall halls, as well as those with very low ceilings, or to adjust the doors to buildings with a sloped ceiling.
In such cases we can offer a whole range of guides (11 types) which allow you to use the whole area to its maximum potential.
Commercial modular doors are available in the following variations:
Full steel doors with narrow engraving (K2 IS),
Glazed: with a window or glazed sections (K2 IA) on the entire door surface,
With a service door within the commercial door or next to it,
Steel doors with micro profiling (K2 IM).
We offer special sections:
IS/ IS with windows, IP double glazed, IP with perforated metal sheet, IP with aluminium mesh,
Glazed sections without vertical poles separating the glass,
With L2, L1, L3 windows of different shapes and dimensions.
Door sections can be filled with polyurethane foam:
Thickness 40 mm as standard,
Thickness 60 mm ensures a high level of thermal insulation (a complex system of seals and dual seal protection of the lower panel with a double lip lateral seal).
Modular doors powered with:
Heavy duty,
Electric motor with a radio control remote or operated manually using a control panel,
Raised manually with a chain drive,
Practical and durable structure with an aesthetic appearance.