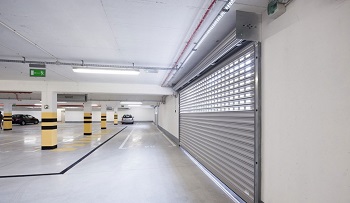 FUNCTIONS
The main advantage of roll-up industrial/commercial doors is their design which takes up minimum space. The curtain of the door, R1, is rolled onto a rail located above the entrance opening. This means that the space directly under the ceiling of the hall remains free. Such doors work great in buildings where space saving is key, for example, where trucks, lifts and other devices which need free space under the ceiling are in operation.
TAILOR-MADE DOORS
Industrial gates have to meet specific additional requirements, which are often unusual. Our technical capabilities allow us to manufacture doors according to exact measurements. We guarantee that the product will fit perfectly, even in very specific, unusual conditions.
DRIVE SYSTEMS
SPRING SYSTEM
R2 SSG roll-up grates are equipped with conveyor spring systems which balance out their weight. They are operated manually with the use of a convenient, ergonomic handle. In case of grates higher than 2 m we also use a special additional hook to help lower the curtain. At the client's request we can also fit an electric motor.
SIDE MOTOR
R2 SSP grates are equipped with a side (basal) motor with an integrated emergency brake and an emergency opening mechanism using a crank. The device is operated with a convenient control station with up – stop – down buttons.
SAFETY
USER SAFETY
Depending on the type of motor selected, roll-up gates use equipped with a safety mechanism which prevents the door dropping in case of a broken spring (R1 ASG doors) or an emergency brake integrated with the drive system (R1 ASP doors).
ANTI-BULGLARY MECHANISM
The standard anti-burglary mechanism in R1 ASG doors with a spring system is a bolt lock fitted in the bottom slat. This prevents a locked door from being opened from the outside. Both R1 ASG and R1 ASP doors can be manufactured to comply with WK3 burglary protection class (EN 1627: 2011).
ADDITIONAL OPTIONS
Roll-up grating can also be fitted with additional protection mechanisms. We offer signalling lights useful in large commercial facilities and photoelectric sensors which raise the grate automatically when any obstacle in the entrance area has been detected. The edge protection mechanism operates in a similar way, stopping and raising the grating after detecting an obstruction.